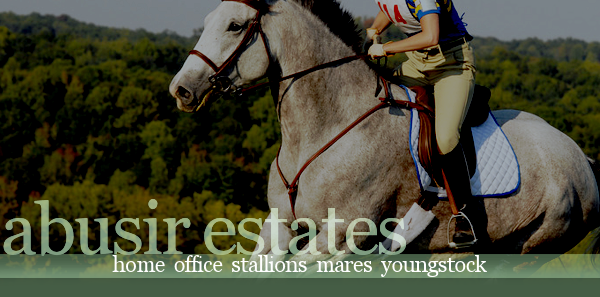 Office
Here at the office of Abusir Estates you will find the records of everything that goes on to help keep our beautiful horses happy and healthy. If you have any questions or inquiries please contact me via PM at WF Farm or SAI Farm Board under the name 'horseluver16' at both places.



Abusir Racing Inc

Abusir Racers is another section of Abusir Estates, it is where all our racers are trained, bred and shown within the ASRA. We aren't home to many racers and it is a nice small place where they can get the attention of some specialist racing people to show us the best ways to keep our horses fit and racing to the best of their abilities. CLICK HERE TO VIEW ABUSIR RACING INC.


Breeding Plans

Do you want your dream foal from Abusir Estates? Well this is the place to look. We have a list of breeding plans, and prices that will fit with your needs and we can set up breedings for your perfect foal. Included is also a list of stallions and broodmares available for breeding. CLICK HERE TO VIEW OUR BREEDING PLANS.


Facilities

Abusir Estates is settled on 90 acres of lush land in Coolengatta, Australia. Our horses enjoy roaming the lush paddocks during the day and sleeping in some of the best stalls money can buy. There are some great facilities for our sporthorses and also a small training race track for our few racers. CLICK HERE TO VIEW OUR FACILITIES.


Sales Contract

Here is where you will find information on the Abusir Estates Sales Contract. This will be applied to all homebred horses and some other who we wish to have put under contract. The contract will be very straight forward and if it is not followed we will be reclaiming the horse and it will either be resold or brought back to us to continue its showing or breeding career. CLICK HERE TO VIEW OUR SALES CONTRACT.